http://gobizonline.com/bags/3  Great Gift Ideas For 14 Feb Valentine's day
This year Valentine 's day comes close. What's your plan? Whatever relationship you are,  a remarkable gift always delights people, especially someone you love and care. Sometimes, the gift gives lifelong memory to him or her.
Here are 3 great gift ideas to you for this special day.
 Lovely Japanese cat Neko Sankyodai mug, teacup set   [Gift for a friendship to close relationship]
Many cat lovers around the world. If you prepare an eating tool or a mug with a lovely cat logo as a gift to a cat lover.  The gift might be touching and makes he/she very happy.
A lovely cat Neko Sankyodai mug is delightful. It is made of porcelain. The handle is turned to the shape of the tail. This makes this mug special.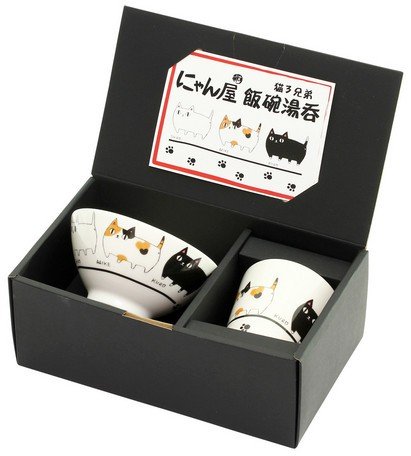 Neko Sankyodai rice bowl Japanese tea cup set
A single mug looks not grand enough.  There is a teacup set. The set contains a rice bowl and a teacup , packaging with a black box.  Both are printed with three brother cats.
All Neko Sankyodai series are microwaveable, dishwashing.
2. Japanese design backpack  [Gift for a close relationship]
He/She may want a gift that is practical. A backpack is popular for years and could be one of the best choices.
Japanese famous brand anello has success in backpack sales for years.  AT-H1931 is a slim, light weight backpack. Its smart casual looking suits for school and business use. This model has a side bag at both sides. A side zipper at the back is a remarkable feature of anello backpack.
3. Classic Checkered Handy machine washable Scarf   [Gift for a close relationship]
Scarf is an ideal gift choice for wide range of people. Ladies like it most because scarf could put inside a handbag. i.e. easy storage. They wear it cover the shoulder, surrounding neck to keep warm when they go to air-con opened room. This is also a Yougood gift choice for elder people.
Another reason favors it popular because it is fashionable.  A scarf could tie in hundreds of ways.
This classic checkered scarf is made with Acrylic 100 % by France manufacturer.  It is washable by a washing machine.
Moreover classic checkered always trendy.  That's why it is one of three great gift ideas.
Your gift plus a small nature dry flower alongside would increase impressions.
The above ideas are available in http://gobizonline.com online store.
http://gobizonline.com/bags/
http://gobizonline.com/2018/12/18/5-christmas-gift-ideas/